Meet the Staff
Edward Williams - Senior Partner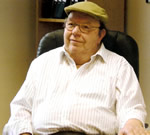 Edward Llewelyn Williams is a farmers son from Llangefni, Anglesey. He went to school in Llangefni and then on to Bristol University to study Veterinary Science. He qualfied in 1964 and went home to Anglesey to work in a mixed practice for 10 years. Then he met Marian, a farmers daughter from Tywyn which is where they settled and set up their own mixed veterinary practice alongside runnng the family farms. A small animal consulting room was set up at the family home at Dolaugwyn and they soon opened a surgery in the village of Cemmaes Road. This surgery is still being used and has had a number of alterations and exensions. The surgery at Dolaugwyn is no longer being used due to the opening of our purpose built modern surgery in Tywyn. Edward is still doing some veterinary work but he is mostly farming and keeping a close eye on the two young vets and the expansion of the family business.
Hugh Williams - Partner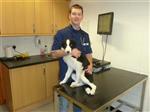 I qualified from The Royal Veterinary College, London in 2001 and after a brief spell working in the foot and mouth disease outbreak in Leicester and Newcastle I came back to my home town of Tywyn to work in the family practice with my father and sister. Whilst at college I received a silver medal from the Royal Agricultural Society for 1st prize in Farm Animal Studies. I have a keen interest in ophthalmology and in my spare time I breed Welsh Black Cattle.
Margaret Turner - Partner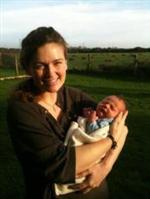 Maggie graduated from the University of Liverpool in 2000 and came home to work in the practice with her father. In November 2011 she had a baby boy, Joseph Douglas and is curretly taking time away from the practice and living in RAF valley with her husband Lee.
Jude Evans - Practice Manager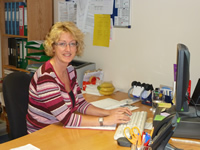 I joined the Williams Vets team in 2009 having previously worked as a senior accounts clerk for over 20 years. I am married to a local farmer and have 2 children. In my spare time I enjoy rowing and running and regularly compete in local events.
Debra Kojs - Assistant Veterinary Surgeon
I grew up in Machynlleth and started seeing practice at Williams Vets from the age of 16. I obtained the necessary grades at A-level in Penglais School, Aberystwyth and then went on to study Veterinary Medicine at the Royal Veterinary College in London and graduated in July 2008. I returned to work here at my home practice in August 2008. In my spare time I enjoy riding and walking in the local area with my dog Roo, who you will often see behind the reception desk at the surgery! I enjoy all aspects of my job here at Williams Vets but I have a special interest in dermatology and medicine.
Rhian Davies - Assistant Veterinary Surgeon
I grew up on the family farm just outside Llanbrynmair. I went to the local primary school followed by Machynlleth Secondary School. I graduated from The University of Liverpool Vet School in 2010 before returning home to work and live. I have been seeing practice at Williams Vets since I was 13 and have developed a particular interest in farm animal medicine. My hobbies include swimming, walking my dog Jess and keeping sheep at home on the farm.
Edward Moss - Assistant Veterinary Surgeon
I graduated from Liverpool in 2009. After spending my first year of mixed practice in Orkney I joined Hugh and the team in the spring of 2010. My favourite jobs at work tend to involve surgery or imaging either in our small animal clinics or out on farm. During my spare time I love to row on the estuary with Aberdyfi Rowing Club, sing and watch "House".
Gwenan Roberts - Veterinary Nurse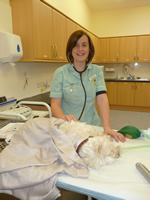 I grew up on our family farm in Cwmllinau. With a keen interest in working and caring for animals, I went to Llysfasi College in September 2004 for 2 years to study a National Diploma in Animal Management. I worked for a short time at the local boarding kennels before getting a job at Williams Veterinary Surgeons in November 2006. I worked closely with Margaret and Hugh for a few years and recently qualified as a veterinary nurse. My hobbies include helping out on the farm and walking my dog Charlie.
Alaw Mai Davies - Nursing Assistant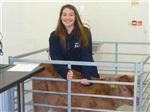 I started work for Williams Vets in 2009 after completing a 3 year course in Animal Care & Management at Glynllifon College. In my spare time I enjoy playing rugby for the Scarlets and netball for a local team.
Tara Pugh - Veterinary Nurse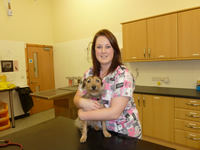 I grew up in Machynlleth and was educated in Tywyn. Following school I completed the National Diploma in Animal Management at Glynllifon College. My course finished in 2009 and I have worked at Williams Vets since then. I qualified as a Veterinary Nurse in November 2014.
Jenny Swanson - Receptionist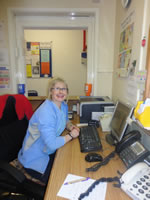 I have lived in the Machynlleth area since I was 2 years old. I attended Carmarthen College where I studied Animal Care, prior to this I worked in Montgomery Vets before moving back and settling in Machynlleth nearer my family. I have been with the practice for a number of years, working for Edward Williams and now Margaret and Hugh. They are a great team to work for and their dedication and commitment is reflected in how far the practice has developed over the years.
Sioned Thomas Jones - Receptionist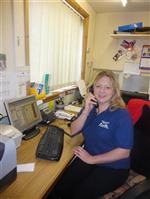 I live on a nearby farm in Abercegir where we keep a suckler cow herd and sheep. I work full time at home on the farm as well as two days helping out in reception at the Cemmaes Road surgery. I particularly enjoy lambing time and I have a small flock of my own. In my spare time I enjoy socialising and am a keen member of Young Farmers.